Spring 2024 Chinese Courses
This is an unofficial list of courses that will be offered in Chinese in Spring 2024. It is strictly for the use of expanded course descriptions. For the complete official course offerings, please consult the My.UIC portal.
For a list of all courses and general course descriptions, please see the UIC Academic Catalog.
Spring 2024 Courses in Chinese - Introductory Courses Heading link
These 4 hour courses meet on campus 3 days a week. Students will do additional online work to complete the 4th hour.
CHIN 102 – Elementary Chinese II
Instructor: Bridget Wang
You've started the journey of Chinese learning. You've studied tones, the writing system, the Pinyin system, and you've amassed a range of vocabulary and sentence patterns to talk about daily life. Now let's add more building blocks to the foundation, and enjoy learning Chinese that help you communicate with Chinese-speaking populations around the world and gain access to Chinese history, culture, societies and much more!
Prerequisite(s): CHIN101 or Appropriate score on the department placement test.
MWF 1:00-1:50
MWF 2:00-2:50
MWF 3:00-3:50
CHIN 104 – Intermediate Chinese II
Instructor: Dr. Duosi Meng
You've got tones, you've got many words and phrases, you've got your basic grammatical structures in Chinese and you've got the skills to communicate to others on a range of personal topics. Now is the time to challenge yourself and learn to communicate on a wider range of topics! This second part of our intermediate level Chinese courses is designed to develop students' broader communicative skills in speaking, listening, reading, and writing standard Chinese. With intensive and interactive exercises, fun practice in real-life situations and many cultural tips, students will gradually build up their competency and fluency in Chinese.
This course is required for the Chinese Minor.
Prerequisite(s): CHIN 103; or appropriate score on the department placement test.
MWF 9:00-9:50
MWF 10:00-10:50
Spring 2024 Courses in Chinese - Advanced Courses Heading link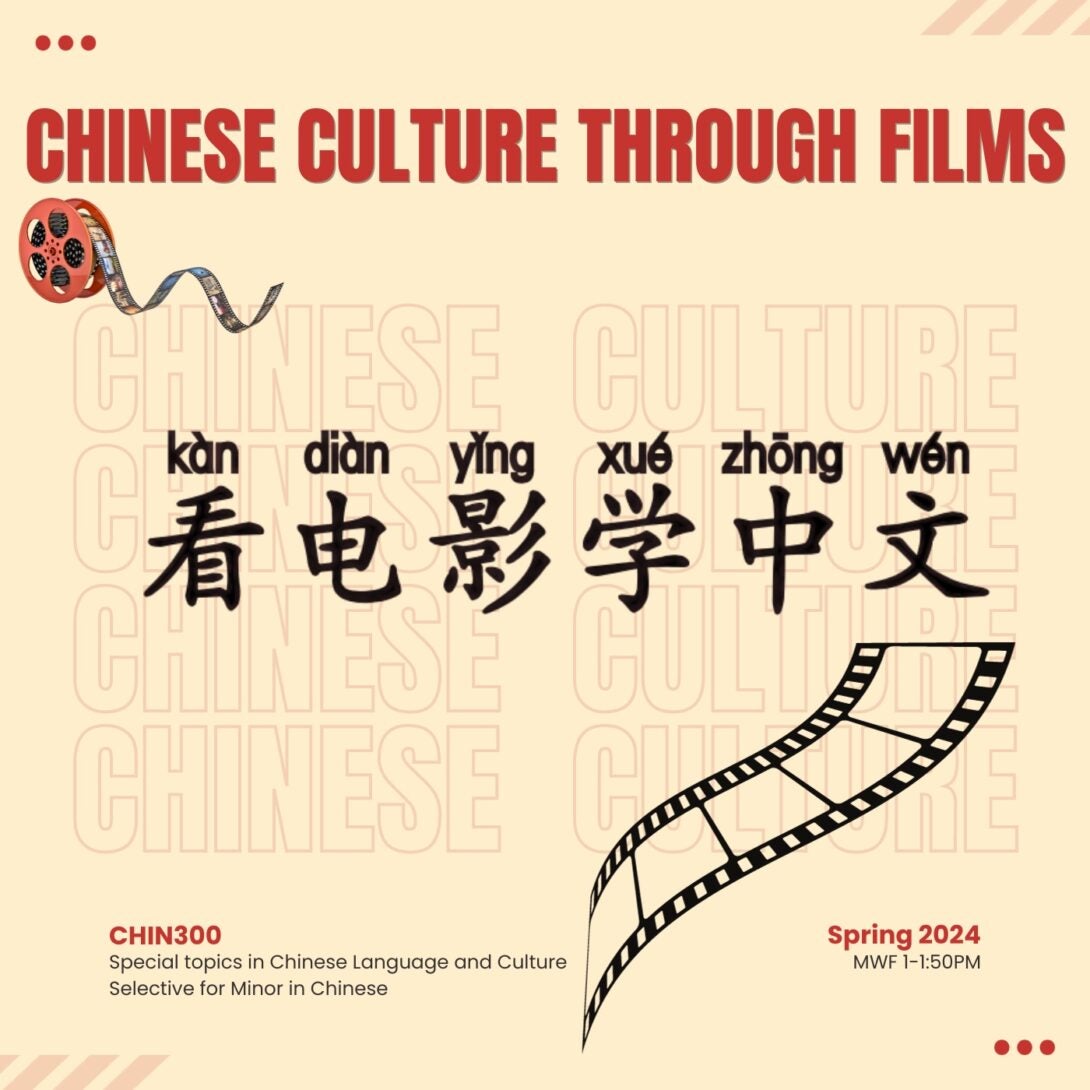 CHIN 200 – Advanced Communication in Chinese
Instructor: Dr. Duosi Meng
On Campus, MWF 12:00-12:50
How do you describe the world around you, talk about the events in your life, and make connections with others in Chinese with confidence and ease? You need a larger vocabulary size, more exposure to authentic language and more opportunities to communicate! This course is designed exactly to do that. In this course, you will develop advanced communication skills for everyday, real-world communication needs.
This course is required for the Chinese Minor.
Prerequisite(s): CHIN 104; or appropriate score on the department placement test.
CHIN 300 – Chinese Culture through Films (Special Topics in Advanced Chinese Skills)
Instructor: Dr. Xuehua Xiang
On Campus, MWF 1:00-1:50
This special-topics course samples films produced in the Chinese language telling stories from diverse times about diverse themes, people and places. You will gain a deeper understanding of the cultural concepts and experiences of the Chinese people while strengthening your skills communicating in standard Mandarin Chinese to different audiences and in different genres.
CHIN300 is approved as a selective for Chinese Minor, and you can take it twice up to 6 credits for the Minor credits when the topics are different.
Prerequisite(s): Grade of C or better or concurrent registration in CHIN 200 or Grade of C or better of concurrent registration in CHIN 209; or consent of the instructor.