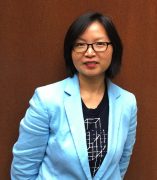 Xuehua Xiang, PhD
Associate Professor, Interim Head, Director of Undergraduate Studies (Linguistics), and Chinese Language Program Coordinator
Linguistics
Pronouns: She/her/hers
Contact
Address:
601 S. Morgan St.
Office Phone:
Email:
About
In my hat as a researcher and (applied) linguist, I'm very interested in how language structures itself at various levels of usages and how social interactions play a role in such structuring. I'm also interested in exploring how activity-based cognitive models are built interactively, for example, how children understand new concepts and how such conceptual orientation leads to new learning . My recent projects are focused on three topics: 1) genre features of marketplace interactions and how such genre features relate to the material and institutional settings of economic activities; 2) concepts and naming devices in historical Chinese-English bilingual texts; and 3) the formation of concepts in music tutorials to children. I'm also an avid language learner myself and a language teacher. I'm passionate about designing curriculum and materials based on authentic input and output to help students learn languages effectively and become confident, resourceful, independent multilingual global citizens.
Selected Publications
Books
Strauss, Susan. Feiz, Parastou, & Xiang, Xuehua. (2018). Grammar, Meaning, and Concepts: A Discourse-Based Approach to English Grammar of English. Routledge.
Recent Peer Reviewed Articles
Xiang, Xuehua. (2019). A Comparative Study of the Restrictive Markings of Mandarin Jiù, Cái, and Zhǐ. In Columbia School Linguistics in the 21 Century, edited by N. Stern, R. Otheguy, W. Reid, & J. Ruggle.
Xiang, Xuehua. (2019). Personal Pronouns in Chinese Discourse. In Chris Shei (Ed.) The Routledge Handbook of Chinese Discourse Analysis. Taylor and Francis.
Xiang, Xuehua. (2018). A Conceptual Framework for Developing Film-based Materials for the Chinese L2 Classroom: Macro and Micro Connection. The Taiwan Journal of Chinese as a Second Language 16: 21-54.
Strauss, Susan, Feiz, Parastou & Xiang, Xuehua. (2017). On Written vs. Spoken Grammar. In John I. Liontas (Ed.) The TESOL Encyclopedia of English Language Teaching. Wiley.
Xiang, Xuehua. (2016). Chinese for Heritage Language Learners at the post-secondary level. In Jiening Ruan, Jie Zhang, Cynthia Leung (Eds.) Perspectives on Chinese as a Foreign Language Education. Springer.
Xiang, Xuehua. (2014). Individualization, temporal interpretation, and "bare classifier." A discourse-informed study of the classifiers of Shishan (Lingao/Be, Hainan Island, China). Proceedings from the 47th Annual Meeting of the Chicago Linguistic Society (Main Session).
Education
PhD in Applied Linguistics