Chinese is the most spoken language in the world and the most spoken language in the US after English and Spanish.  That alone is reason enough to study this beautiful and ancient language and learn about the culture connected with it.
Chinese is a language of global business.
It's spoken not just in China and in Asia. It's spoken around the world by global communities connected by Chinese history.
Have an artistic flair? Chinese writing system and calligraphy are wells of inspiration.
Knowing Chinese gives you insights into current affairs.
Chinese philosophy and culture give you access to a world where ancient civilizations beat with a contemporary pulse.
The Chinese Program offers a basic language sequence, advanced language and culture classes, and a minor in Chinese. All levels require a placement to ensure you are at a level most suited for sustained progress.  Have questions? Click here for advising information.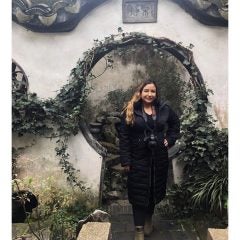 "My Chinese minor opened the doors to global opportunities. As a Latinx student majoring in LatinAmerican and Latino Studies, minoring in Chinese has allowed me to diversity my interest outside of the US. It is well known that the US has been a key player in LatinAmerican international relations, politics, and business; minoring in Chinese, GLAS, and INST has allowed me to also notice the increasing influence that China is having in the continent in terms of language, infrastructure projects, and trade. I worry that U.S.-China animosity may turn confrontational. I believe that language proficiency is critical in order to truly build mutual understandings. This is why I studied abroad in China for a year. While in China, I was exposed to new US-China rhetoric and developed an interest in the Asia Pacific region. Since returning to the US, I have been working towards Chinese fluency." (Read Jazmín's tips on developing Chinese skills in relation to professional opportunities  HERE.)

Jazmín is majoring in Latin American Studies Major and minoring in Chinese, Global Asian Studies and International Studies, and recipient of Asia - Freeman Scholarship, LASURI Research Award. Graduating from UIC in May 2021, Jazmín will start graduate school at University of Chicago Harris School of Public Policy.

|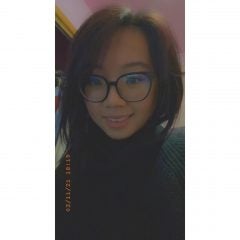 "My Chinese minor allows me to connect to my native culture and learning the language allows me to communicate with my family. As an Asian-American, I have struggled with my two identities and balancing them. Many families assimilate into their American identity in order to better fit into society at the cost of not being as in touch with their native identity. Ever since I was young, I loved to read and write which led me to pursue an English major in college, but I did not forget about my other identity and chose to minor in Chinese. I have written a book proposal in my Editing and Publishing class in which I cover the topic of Asian-American struggles with dual identity and offer tips on how I managed to preserve both my Asian and American identity. It is especially important to remember and be proud of our culture and native roots with the rise of hate crimes against Asian-American. 我以我的美国华裔身份而骄傲。也许这就是为什么我决定在大学学习英语和汉语的原因."

Joey is majoring in English-Professional Writing and Minoring in Chinese; Joey is President's Award Program Scholarship recipient as well as the Mark A. Touquan Memorial Scholarship recipient.

|

1/24/22, 9:00 am–4/29/22, 4:00 pm
Zoom

1/26/22, 12:00 am–4/20/22, 2:00 am
Zoom

Friday, 3:00 pm–4:30 pm
Zoom